The Trailer for Batman Forsaken is here!
Here ya go! Smaller version on YouTube for the bandwidth impaired
Batman Forsaken
Cast & Crew


Brian Crosby - Batman, Writer, Director
Regan Remy - Catwoman, Executive Producer, Producer, 1st AD, Composer
Tara Strand - Harley Quinn, Producer, Art Director, Costume Supervisor
Donald Strand - The Joker, Production Assistant
Taliesin Jaffe - Mad Hatter, Production Assistant
Topher Davila - The Penguin
Morgan Wessler - Two-Face
Cynthia Mendez - The Huntress
Jill Encarnacion - Batgirl
Amy Melin - Chickadee
Katrina Mosher - Finella
Christi Anne Franck - Associate Producer, Production Manager, Script Supervisor
Muse Greaterson - Associate Producer, Foley Artist
Matthew C. Boyd - Director of Photography
Frederic Chaignat - Assitant to the DP
Scott Sohan - Editor, Visual Effects
Chris Biggs - Visual Effects Supervisor
Mark Kochinski - Visual Effects
Rob Dressel - Visual Effects
Lincoln Smith - Visual Effects
Chris Komashko - Sound Designer, Sound Mixer
James Domkus - Gaffer, Key Grip
Robert Held - Grip
Vickiy Strutt-Hackman - Prop Coordinator, Set Dresser
Alex Polinsky - Prop Maker, Voice Director, Video Documentation
Kristin Biggs - Set Dresser
Louie Lambie - Set Construction, Props, Weapons Coordinator, PA
Sean Holton - Set Construction
Johnny Hackman - Set Construction
Mitchel Evans - Fight coordinator, Makeup Artist, Specialty Rigger
Jessica Westbrook - Makeup Artist, Costuming, Set Dressing Assistant, Lounge Singer
Krista Zala - Craft Services
Jason Naylor - Craft Services
Josh Skemp - Grip, Production Assistant
RJ Parsons - Production Assistant
Lisa Marusin - Production Assistant
Bevan Iredell - Photographer, Video Documentation
Leora Saul - Photographer
Lincoln Kamm - Photographer
Dan Gordon-Levitt - Photographer
Janel DaVilla - Photographer

Special Thanks: Pablo at SkyDrops, The RumRunners, Hunger Lam, Cherme Lucero, Cat Thelia, Tony Swatton, Annisse, Chris Mendicino, Iceberg Lounge extras, Kevin Daniels, Paul Krieg, Faith Silva, Kelly Crosby, Gotham Public Works' donators and fans
Video Podcast 3: COMIC KAAAAAHN!
Follow us through the meaty bowels of con! This ones got it all, Catwoman yoga, Starbucks, guys in speedos and Stephen Baldwin.
Video Podcast 2: Hatter and the Wall
For this week we have an interview with the Mad Hatter, and the property defacement that went on at Sky Drops studios.
First video podcast
Here is the first in a series of video podcasts that go behind the scenes of Batman Forsaken, click here and subscribe to our RSS feed or become a subscriber to our YouTube channel to make sure you don't miss one!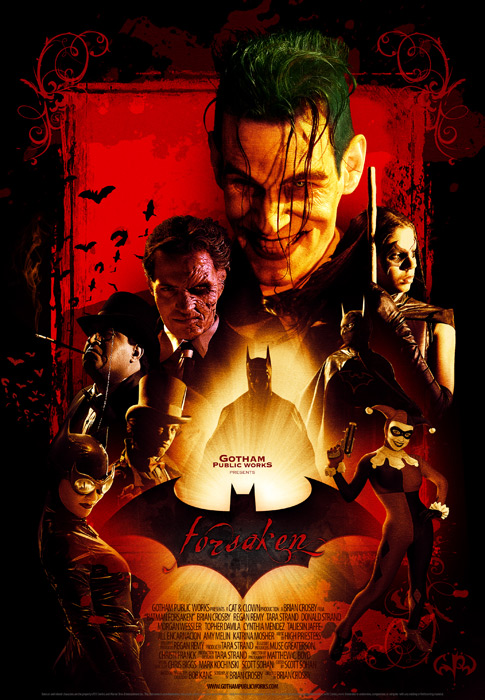 Series 5 :: Click to see the full image! :: Scroll down for more.
Series 4 :: Click to see the full image! :: Scroll down for more.
Series 3 :: Click to see the full image! :: Scroll down for more.
Series 2 :: Click to see the full image! :: Scroll down for more.
Series 1 :: Click to see the full image!